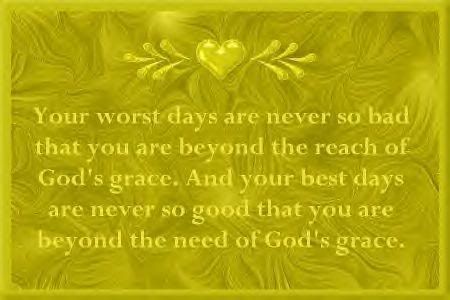 Grace: a seemingly uncomplicated word, but sometimes I wonder how to apply it to my own life or wonder at the way others use the word. I used to work with a wonderful Christian woman who used to tell me basically to let the grace of God do the work and get me through the day and to handle things through God's grace. I miss her....Anyway, I came across this article last week in

The Old Schoolhouse Support Newsletter

, and it really breaks the word grace down into pieces that we women can more easily apply to our lives. One of my favorite parts was where the author, Jessica Van Roekel, talks about how we think we have to be to a certain point in our Christian walk to even serve God, and that's just not true. I let my perfectionistic attitude sometimes take over, thinking everything has to be perfect, when, in all reality, it's not going to be; God wants to use me now; that's how I'm going to grow, is by letting Him use me now, imperfect and flawed as I may be. Anyway, read on.....I hope it can give you a moment of inspiration and reflection as well.
From Our Readers: Grace - How Beautiful By Jessica Van Roekel

Grace.
This has always been a word filled with a mystery and beauty that seems unattainable yet it draws me in. I have been told it means undeserved favor or merit, but I long to know a deeper meaning than what I have been given and I long to know how it plays out in my homeschool and life with my family. I long to be a gracious wife, mother, teacher of my children, and friend to those around me, but I must confess I don't quite understand how it all is supposed to work out practically.

Grace.
I have often relied upon 2 Corinthians 9:8 which states: "And God is able to make all grace abound toward you; that ye, always having all sufficiency in all things, may abound to every good work." For some reason I remember to apply that verse to situations outside my family, but often forget within myself and my family. Too often I think I need to do all this mothering and teaching on my own, in my own strength-after all, God did place these children in my care; He has led me (us) to homeschool so that we can develop a passion in their hearts for Christ and His ways and His word-so then it must be up to me to get it done. How prideful. How foolish. How human.

Grace.
Humility must play a part in grace. After all, grace is undeserved favor and merit, with the key word being 'undeserved'. How humble I feel when I am blessed beyond my wildest imagination simply because God chose to bless me. How unworthy I feel when He chooses to use me anyway. I help with worship every other Sunday morning and we had quite the Sunday morning with one of our children from the time this one child woke up until we left for church so it was about an hour with one thing escalating after the other. This was a real test of patience. I had quite the time holding my tongue and my tone and I have found that when I am feeling so close to losing self-control that I just shouldn't speak aloud at all. However, I had plenty to say to the Lord. Comments such as, "How can I help lead worship when I am feeling such anger at this child?" "Couldn't you have had this child wake up in a better mood?" "How am I supposed to be an example, when my heart is filled with such frustration?" "I am a horrible mama, how am I supposed to get up in front and sing with my whole heart to You when my heart is filled with such dislike for this child?"

Grace.
I got a glimpse of grace that morning. No-it wasn't in dealing with this child, but in God dealing with me. How foolish of me to think I needed to be a certain way before He would use me. I felt Him whisper, "I don't want you worthy, there is only One who is worthy and that is My Son so praise Him today. Don't look at your failings, look at My greatness." I lifted my voice and let my love for Him flow through me and out of me despite feeling like a failure in the one great calling He has placed on my life-that of motherhood. That morning of worship was so sweet. I felt so humbled that He would still desire to use me to minister to others.

Grace.
What a beautiful word. I love to look at it. I love to say it. I want to seek to understand it more. I am beginning to think that homeschooling is one of the aspects God is using to teach me about grace. Homeschooling is big enough that it makes me feel small, insignificant, and completely overwhelmed by all that it involves yet on the same hand I feel energized by the challenge of it and by those small glimpses of seeds taking root and growing in the hearts of my children. I have learned that it is by grace I am saved, by grace I am called, and by grace I will finish.

Grace.
"And God is able to make all grace abound toward you; that ye, always having all sufficiency in all things, may abound to every good work." 2 Corinthians 9:8. I want to offer this as a challenge: look at your homeschool as more than a learning time for your children; look at it as a learning time between you and the Lord. Take all the little pettiness throughout the day, the frustrations over learning, the worries, and cares that strip the day of its joy, and turn them over to the Lord and let Him pour His grace into you and through you and you will see little gems of grace sprinkling about your day. Little gems that bring you joy.

Grace. How beautiful.



Jessica Van Roekel is from Northwest Iowa. She and her husband have four children ages: 9, 7, 4, and 2 and are in their fifth year of homeschooling and find the journey to be challenging, but sweet.



Reprinted with permission from The Schoolhouse Support e-NewsletterCopyright, 2009, The Old Schoolhouse Magazine, LLCSign up for our e-Newsletters here:

http://thehomeschoolmagazine.com/E_News/index.php