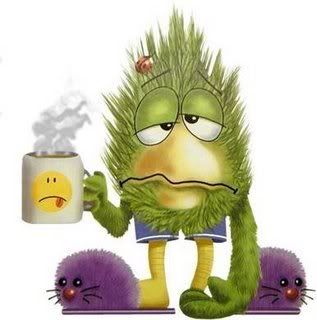 This is what I'm telling myself right now, "Don't get discouraged!" I am two weeks into my more aggressive weight loss/exercise routines with my friend,
Nancy
, who by the way, lives in Ohio, but we are keeping this up long-distance. This week, I gained back two pounds. Now, I know that I'm building muscle because I'm so sore in places that I never even knew existed on my body....and my pants are becoming a little looser....so why did I gain back two pounds? Could it be that my body is building muscle right now; could it be that I haven't honestly been drinking enough water; or could it be that I've been limiting my calories so intensely that maybe it's been a bit too much in the beginning? See, there go my perfectionistic tendencies again; I
think in my head, "If I'm going to lose weight, then I have to go all out; I have to do this and watch that and not eat that and work out here and blah blah blah blah blah, until I feel like I'm just going in circles, and my head is spinning. Have you ever been to this point? Well, that's where I'm at right now. I'm trying to force myself to look at the bigger picture.....what do I really want? Sure, I want to lose weight and look smokin' great in my clothes....but what I want most of all is to be a healthy mom to my kids. That's what I most want. In order to get from where I'm at now to the picture I have in my head of that healthy mom, I have to listen to my body, which has been telling me to drink more water, eat when I'm hungry, not starve myself because it may be 100 calories more than I should have, maybe give in to one treat every day instead of just binging on them on the weekends (oh yeah, been there done that last weekend). I have to find that "balance" in my life (which reminds me of the last episode of The Biggest Loser).
So, that's where I'm at right now, just telling myself not to get discouraged, to keep on keeping on. It's such a great feeling after a workout, that feeling of having sweated, having pushed through, having worked every muscle and strained to keep going. I feel on top of the world after working out....how about you? Are you listening to your body? Or are you a "reforming" perfectionist like me? Take my advice: don't give up; keep going....but find that middle ground that's just right for you....you can do it!